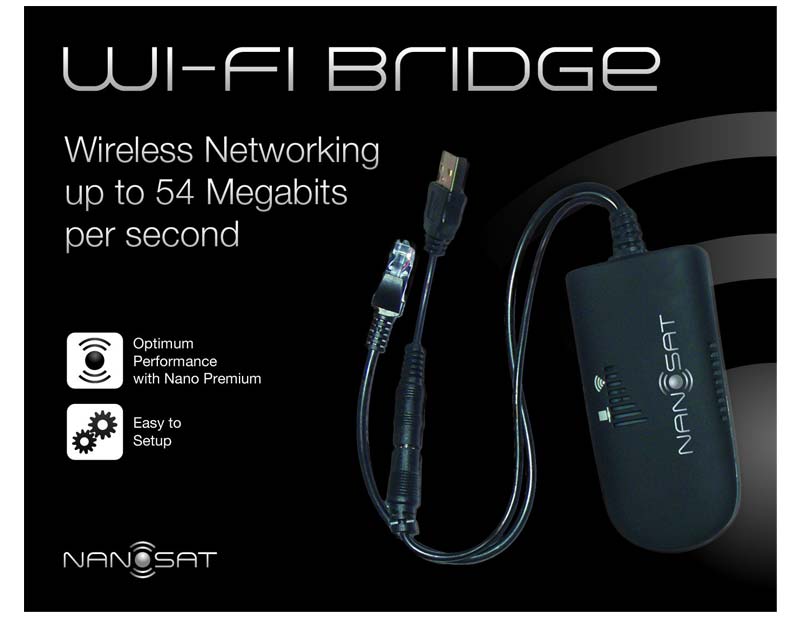 A long awaited Nanosat WiFi Bridge is here with limited quantity available exclusively for the Nano Premium Free to Air receiver.

Wiring is something in the past !!! Instead of using cat5 cable or Powerline adapters, now you can make your Nanosat Nano Premium truly wireless. Welcome to the future with this Magnificient and convenience product from Nanosat.

You Must have a wireless router in order to use this WiFi Bridge. Now you can download IP movies (Video Club), Homestream MPEG movies from your PC and Listen to IP Radio (Coming Soon) wirelessly up to 54 Mbps. Limited Stock !!!

Features:
The new addition of a USB wire is to connect a computer (desktop, laptop, FTA receiver) for power without the no need of extra power adapter
It can be used for any wireless network product such as wireless router, IP camera, etc...
Support any VoIP ATAs and VoIP phones
Support Wifi model: AP Client
IEEE 802.11B/G compliant
Support WEP (64 bit), WEP (128 bit), WPA, WPA2 Security access
Support SSID broadcast
Frequency: 2.4Ghz

Specifications:
1 10/100 base Ethernet cable header
1 DC-2.0 female power port for power in
1 DC-2.0 male power port for power out
Input Voltage: DC5V-15V
Consumed Power: Less than 1.5W