Nanosat Premium SE
$149.95, NO TAX, FREE SHIPPING IN CANADA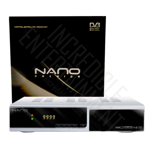 Join the FTA revolution with the latest Nanosat product line. Introducing the most complete and advanced receiver on the market today... Nanosat Nano Premium SE... it's not a selection - it is the right choice because of its Dynamic Luxury options...
With the introduction of Home Streaming, you can now watch movies or show your favourite pictures to your families and friends right on TV thanks to the Home Streaming technology.
Getting bored with the old movies you've downloaded??? Live Internet Movie & Radio is another beautiful option that you can watch a Movie or listen to a favourite Radio station conveniently at the tip of your fingers!!!
Nanosat Premium SE is a USB PVR receiver (USB or External Hard Drive required), it has 3 x USB ports which is ideal for whom who loves to record their favourite shows and play back at another time without sacrificing the front look like the old Nano2 when plugging in your USB or External Hard Drive.
Nano Premium SE is WiFi ready. However, the most reliable method still is using a pair of RoyalPlus Powerline wireless adaptor/bridge.
The HDMI output will give end users the best quality Video and Audio that a Standard receiver has to offer. Don't miss out this Special Edition STB!!!
Features:
Home streaming
Live IP Movie/Radio
Dolby Digital
HDMI Port (Best quality Video and Audio a Standard STB has to offer)
3 x USB 2.0 Hosts (Access to HDD, USB memory, Others etc)
Wi-Fi Ready (Optional Wi-Fi Bridge)
Universal Remote
Built-In Ethernet Port
MP3 File Play by USB 2.0
PVR Ready via USB
Recorded file play on PC
Reservation Recoding by EPG function
MPEG-II Digital & Fully DVB Compliant.
C/KU band control for each antenna
LNB Tone Switch 22KHz mode on/off
Multi-LNB controlled by DiSeqC =>DiSEqC 1.0, 1.1, 1.2 and USALS
Total 8,000 Channels Programmable
Blind Scan
Picture In Graphic (PIG)
Picture In Graphic (PIG)
Electronic Program Guide (EPG) for On Screen Channel Information
Multi-language supported for Menu and OSD
Zoom Function by 2x...4x
Parental Lock
Closed Caption Support
CVBS Video & Audio Output via RCA
Component YUV Output via RCA
7-Segment (4-digit) Type of Front Panel Display
Upgrade Software & Update Channel Database through USB 2.0 Port